Vostok-2022: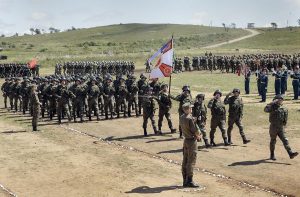 An Indian Army contingent comprising troops from 7/8 Gorkha Rifles is participating in the multilateral strategic and command exercise 'Vostok-2022' which commenced at the training grounds of the eastern military district in Russia.
The exercise also includes participation by the Chinese People's Liberation Army.
The exercise is aimed at interaction and coordination amongst other participating military contingents and observers.
The exercise is scheduled to be held from Sept. 01 to 07.
Russia has stated that Vostok-2022 will be conducted in two phases.
Participating contingents include observers from the Collective Security Treaty Organisation, the Shanghai Cooperation Organisation (SCO) and other partner states.