INS Satpura: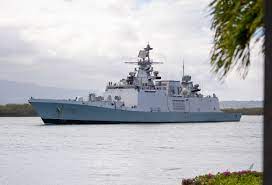 INS Satpura visited Suva, Fiji from 01 – 03 September 2022 as part of its Operational Deployment in the Pacific Ocean.
The ship's visit is aimed at further strengthening the friendship and cooperation between the two nations.
Built at Mazagaon Docks Ltd, Mumbai, and commissioned on 20 August 2011, INS Satpura derives her name from the majestic Satpura mountain range in central India.
A frontline warship of the Eastern Fleet based at Visakhapatnam, INS Satpura is currently on one of the longest deployments by the Indian Navy in the 75th year of India's Independence.
Fiji is an island country in Melanesia, part of Oceania in the South Pacific Ocean.