INS Gomati: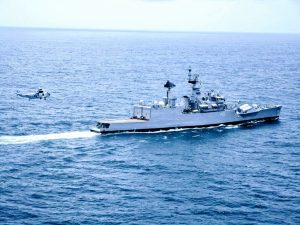 The Indian Navy Ship (INS) Gomati was decommissioned from the naval dockyard in Mumbai.
INS Gomati derives her name from the vibrant river Gomti.
Gomati River, also called Gumti, tributary of the Ganga River.
When decommissioned, INS Gomati was also the oldest of the guided-missile frigates in the Western Fleet.
It was commissioned in 1988 at Mazagon Dock Ltd, Bombay.
Participated in: Operations Cactus, Parakram and Rainbow, and several bilateral and multinational naval exercises.
1988: Under Operation Cactus the Indian Armed Forces have helped the government of Maldives in the neutralization of the coup attempt.
2001: Operation Parakram launched in the wake of terrorist attack on Parliament, was the first full-scale mobilisation since the 1971 Indo-Pak war.
2004: The Rainbow initiative was launched to assist those affected by the Tsunami, in partnership with the Sri Lankan government.
Awarded twice the coveted Unit Citation, once in 2007-08 and again in 2019-20.