India's First Dark Sky Reserve In Hanle, Ladakh: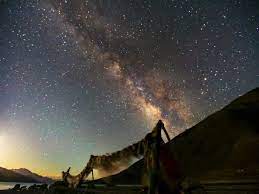 In a first-of-its-kind initiative, the Department of Science & Technology (DST) has announced the setting up of India's first Dark Sky Reserve in Hanle, Ladakh.
A Dark Sky Reserve is a designation given to a place that has policies in place to ensure that a tract of land or region has minimal artificial light interference.
The International Dark Sky Association is a U.S.-based non-profit that designates places as International Dark Sky Places, Parks, Sanctuaries and Reserves, depending on the criteria they meet.
MoU for Setting up Dark Reserve: There was a three-way Memorandum of Understanding was signed among the Union Territory administration, Ladakh Autonomous Hill Development Council (LAHDC), Leh, and the Indian Institute of Astrophysics (IIA), Bengaluru, which uses and maintains the telescopes, for launching the Dark Space Reserve.
It will have activities to help in boosting local tourism and the economy through interventions of science and technology.
To promote Astro-tourism, villages around Hanle will be encouraged to promote homestays equipped with telescopes that visitors can use to view the night sky.
Villagers and residents will also be trained to help visitors with astronomical observations.
There will be delineators on roads like you do outside observatories. People can come, park, observe the sky and stay in homestays.
A visitor centre would also be set up to inform people not only about astronomy but also about the wildlife and plant life in the adjoining Changthang Wildlife Sanctuary.