Irrawaddy Dolphin Found Dead In Chilika Lake: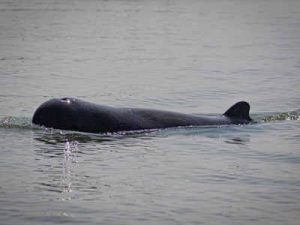 Irrawaddy dolphin found dead in Chilika Lake. This is the 8th dolphin death in Odisha in 8 months.
About Irrawaddy Dolphins
Irrawaddy dolphins fall under Schedule I of the Indian Wildlife (Protection) Act, 1972 and mentioned in the International Union for the Conservation of Nature (IUCN) Red List of Endangered Species.
Found in coastal areas in South and Southeast Asia, and in three rivers: the Irrawaddy (Myanmar), the Mahakam (Indonesian Borneo) and the Mekong (China).
The concentrated lagoon populations are found in Chilika Lake in Odisha, and Songkhla Lake in southern Thailand.
Chilika is Asia's largest and world's second largest lagoon.
It is the largest wintering ground for migratory birds on the Indian sub-continent and is home to a number of threatened species of plants and animals.
In 1981, Chilika Lake was designated the first Indian wetland of international importance under the Ramsar Convention.
Major attraction at Chilika is Irrawaddy dolphins which are often spotted off Satpada Island.