Deepor Beel In News :Assam: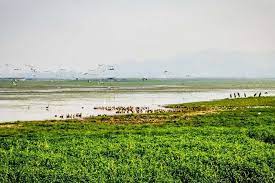 Degradation of Assam's Deepor Beel due to anthropogenic forces
Human activities which have caused this destruction– dumping of garbage, construction of roads and railways, construction of warehouses, tourism activities
This degradation has caused death of elephants in railway accidents, fewer elephants visiting the wetland due to deteriorating quality of water due garbage dumping, reduction in the number of fishes available for fishermen etc
Deepor Beel is a Ramsar site and a part of it is also wildlife sanctuary (Rani Reserve forest) in Guwahati, Assam.
Deepor Beel is a permanent freshwater lake, in an earlier channel of the Brahmaputra River, to the south of the main river.
The site is an important destination for many migratory species of birds
Ramsar convention is an international treaty for the conservation and wise use of wetlands, named after the Iranian city of Ramsar, on the Caspian Sea, where the treaty was signed on 2 February 1971.