Jagannath Temple Heritage Corridor Project Controversy: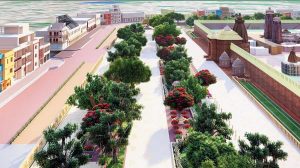 The ArchaeologicalSurvey of India (ASI) on May 17 said that a sculpture of a lion, which possibly dates back to the Ganga dynasty, was found during excavation for the controversial heritage corridor project around the 12thcentury Jagannath Temple in Puri,Odisha.
This is the third such lion sculpture found during the excavation work.
Jagannath temple was constructed in the 12th century by King Anatavarman Chodaganga Deva of the Eastern Ganga Dynasty.
Jagannath Puri temple is called 'Yamanika Tirtha' where, according to the Hindu beliefs, the power of 'Yama', the god of death has been nullified in Puri due to the presence of Lord Jagannath.
It was called the "White Pagoda" and is a part of Char Dham pilgrimages (Badrinath, Dwaraka, Puri, Rameswaram).
There are four gates to the temple

Eastern 'Singhadwara'(main gate with two crouching lions)
Southern 'Ashwadwara
Western 'Vyaghra Dwara
Northern 'Hastidwara'.

There is a carving of each form at each gate.
In front of the entrance stands the Aruna stambha or sun pillar, which was originally at the Sun Temple in Konark.
Jagannath temple Heritage Corridor Project:
The project includes redeveloping major portions of the holy town and in the vicinity of the Jagannath temple for visitors and tourists.
The project will include:

Shree Jagannath Temple Administration (SJTA) building redevelopment
a 600-capacity Srimandir reception center
Jagannath cultural center
Badadanda heritage streetscape
beachfront development
Puri lake
Musa river revival plan, etc.