Puri Heritage Corridor Project: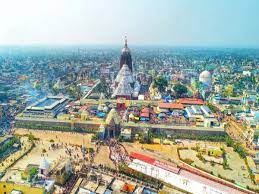 The Odisha Government is expected to soon lay the foundation stone of the Puri heritage corridor, which is being developed at a cost of Rs 800 crore.
The project is a part of the Augmentation of Basic Amenities and Development of Heritage and Architecture (ABADHA) scheme for developing Puri as a world-class heritage city.
Conceived in 2016, the Puri Heritage Corridor Project was unveiled in December 2019 to transform the holy town of Puri into an international place of heritage.
The project includes redeveloping major portions of the holy town and in the vicinity of the Jagannath temple for visitors and tourists.
The project will include Shree Jagannath Temple Administration (SJTA) building redevelopment, a 600-capacity Srimandir reception centre, Jagannath cultural centre, Badadanda heritage streetscape, beachfront development, Puri lake, Musa river revival plan, etc..