Indian Coast Guard Ship 'Sarthak':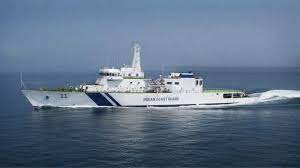 The indigenously built Indian Coast Guard Ship 'Sarthak' was commissioned and dedicated to the nation on October 28, 2021 at Goa by the Director General of Indian Coast Guard K Natarajan.
ICGS Sarthak will be based at Porbandar in Gujarat and operate on India's Western Seaboard under the Operational and Administrative Control of the Commander, Coast Guard Region (Northwest).
ICGS Sarthak is 4th in the series of five OPVs being built by Goa Shipyard Limited for the ICG.
These OPVs are multi-mission platforms capable of undertaking concurrent operations. The 105-meter-long ship displacing 2,450 tons is propelled by two 9,100 kilowatt diesel engines designed to attain a maximum speed of 26 knots.