Jaisamand Wildlife : Jungle Safari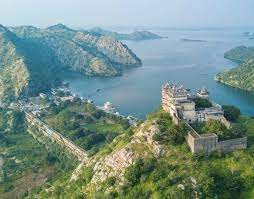 Rajasthan Chief Minister recently inaugurated 'Jungle Safari' at Jaisamand Wildlife Sanctuary.
Jaisamand Wildlife Sanctuary is located in the Udaipur district of Rajasthan surrounding Debar Lake (Jaisamand Lake).
The forest of the Sanctuary used to be a Shikargah (Game Reserve) of the erstwhile Maharanas of Mewar.
It was declared a Wildlife Sanctuary in the year 1957.
The flora of this Sanctuary comprises of thickly wooded forests of mainly Teak wood.
It is habitat to a large variety of animals like Bears, Black Bucks, Blue Bulls, Chinkaras, Chittal or Spotted Deer, Civets, Common Langurs, Four-horned Antelope, Foxes etc.
It is also home to a huge variety of over 300 species of resident as well as migratory birds like Babblers, Buzzards, Curlews, Dalmatian Pelicans, Darters, Doves, Eagles, Egrets, Falcons, etc.