KANDLA SEZ (KASEZ): First Green SEZ In The Country.: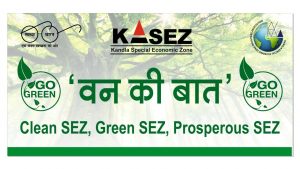 Kandla becomes first Green SEZ in the country.
Kandla Special Economic Zone (KASEZ), the oldest export zone in the country, has become the "first green industrial city" in India to receive a platinum rating under IGBC Green Cities Rating for existing cities in the industrial cities category.
Compared to the 25,000 trees in KASEZ in 2019, the 1000-odd acres has 3.5 lakh trees. Most of these trees have been planted post 2019, using the Miyawaki forestation method.
Apart from this, KASEZ also used plastic waste to line the artificial water bodies created inside the area to prevent water seepage and mix with the saline water.