Local Currency Settlement (LCS) System : India And UAE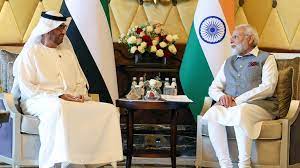 India and UAE signed a historic Memorandum of Understanding on Local Currency Settlement (LCS) system.
The agreement was signed between the Reserve Bank of India and the Central Bank of the UAE.
Objective is to revolutionize cross-border transactions between the two nations.
Local Currency Settlement (LCS) system enables exporters and importers to invoice and pay in their respective domestic currencies.
The LCS system between India and UAE allows for the use of the Indian Rupee and UAE Dirham in bilateral trade.
It is India's first-ever LCS arrangement.
This innovative system is expected to have a transformative impact on transaction costs and processing time.
It is anticipated to have a ripple effect on global economic engagements, encouraging the use of local currencies and fostering greater financial independence.
It will increase the reliance on local currencies.
The LCS system, will provide a seamless and efficient mechanism for cross-border transactions.
It will reduce dependence on international currencies and further strengthen economic cooperation.
It will enable the use of surplus balances in local currencies for investment in various local currency assets, such as corporate bonds, government securities, and equity markets, creating new avenues for growth and collaboration.
It will amplify the preferential terms already established by the Comprehensive Economic Partnership Agreement (CEPA), bringing new opportunities for trade and investment.