India-UAE CEPA: Finalized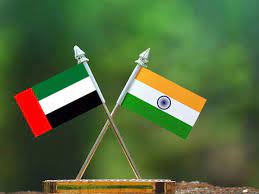 The Comprehensive Economic Partnership Agreement (CEPA) between India and the United Arab Emirates (UAE) got finalised.
India-UAE CEPA was signed on 18th February 2022, during the India-UAE Virtual Summit.
The Agreement is expected to enter into force on 1st May 2022.
CEPA provides for an institutional mechanism to encourage and improve trade between the two countries.
India and the UAE enjoy excellent bilateral relations, which are deep-rooted and historical, sustained and nurtured by close cultural and civilizational affinities, frequent high-level political interactions, and vibrant people to people linkages.
The India-UAE comprehensive strategic partnership was initiated during the visit of the Prime Minister of India to UAE in India and the UAE have been each other's leading trading partners.
From USD 180 million per annum in the 1970s, India-UAE bilateral trade has steadily increased to USD 60 billion in FY 2019-20 making the UAE, India's third-largest trading partner.
The UAE is also the second-largest export destination of India.
The UAE is also the eighth largest investor in India with an estimated investment of USD 18 billion.
Moreover, India and the UAE have recently entered into a Memorandum of Understanding (MoU) whereby the UAE has committed USD 75 billion towards infrastructure development in India.
The UAE is an important source of India's energy supply and a key partner of India in the development of strategic petroleum reserves, upstream, and downstream petroleum sectors.
The India-UAE CEPA will further cement the already deep, close and strategic relations between the two countries and will create new employment opportunities, raise living standards, and improve the general welfare of the peoples of the two countries.
CEPA:
It is a kind of free trade pact that covers negotiation on the trade in services and investment, and other areas of economic partnership.
It may even consider negotiation in areas such as trade facilitation and customs cooperation, competition, and IPR.
Partnership agreements or cooperation agreements are more comprehensive than Free Trade Agreements.
CEPA also looks into the regulatory aspect of trade and encompasses an agreement covering the regulatory issues.
India has signed CEPAs with South Korea and Japan.