India-France-UAE Trilateral Cooperation Initiative: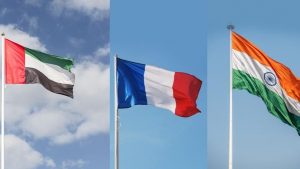 India has been increasing its bilateral trade with UAE.
With CEPA and the Golden Visa program (extension) of UAE, business relations have increased exponentially.
On the other hand, India has strong defence relations with France.
From fighter jets to drones, the Indian military is using French-made goods.
Extending the ties further, India is launching Trilateral Cooperation Initiative with the countries.
Under the initiative, the countries will work together to design and implement "ENERGY PROJECTS".
The projects will be around energy conservation, climate change and the conservation of biodiversity.
The main area of focus is the Indian Ocean Region.