Megalithic Dolmen Site : Found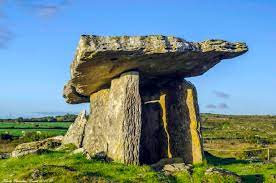 Unique terracotta figurines in different states of preservation have been found in recent archaeological explorations conducted in the megalithic dolmen site at Mudu Konaje, near Moodbidri, in Dakshina Kannada.
Megalithic culture is known for its different types of burials and use of iron in India. Dolmen is one among them.
Under a dolmen, huge stone slabs known as orthostats were erected in clockwise order, which created a square room.
This square chamber was closed by another huge stone slab as a capstone.\
Generally, on the Eastern slab, a round or U-shaped entrance known as port hole was created.
It was known by different names in South India, like Kalmane, Pandavara Mane, Moriyara Mane and Moriyara Betta etc., which reveals its popularity among the common people.
Mudu Konaje site figurines were datable to 800-700 BC.
It was the biggest megalithic dolmen site, which consisted of nine dolmens on the slope of a stone hill.
Of the eight figurines found, there are two cow bovines, one mother goddess, two peacocks, a horse, the hand of a mother goddess, and an unknown object.