MiG-21 Aircraft : Crashed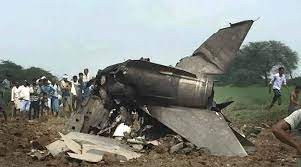 A MiG-21 fighter aircraft of the Indian Air Force (IAF) crashed recently in Rajasthan.
The MiG-21 is India's longest-serving fighter plane. It was designed by the Mikoyan-Gurevich Design Bureau (OKB) of the erstwhile Soviet Union.
India got its first single-engine MiG-21 in 1963, and progressively inducted 874 variants of the Soviet-origin supersonic fighters.
The plane has seen several updates and modifications since then.
The MiG-21 Bison is an upgraded version of the MiG-21bis which had been first inducted into service in 1976.
The MiG-21 FL, which was an older version of the aircraft and which joined service in 1963, had been phased out of IAF in 2013.
The IAF received the first upgraded MiG-21 Bison in 2001 and the last of these upgraded fighters was received in 2008.