Tungnath Temple : Monument Of National Importance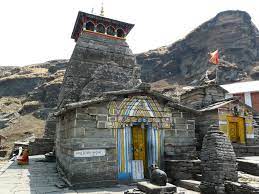 The central government recently issued a notification declaring the ancient temple of Tungnath as a monument of national importance.
Tungnath Temple is located in Rudraprayag District, Uttarakhand.
It is the highest Shiva temple in the world nestled at an altitude of 3680 meters.
It is one of the Panch Kedars and is believed to have belonged to an ancient era almost 1000 years old.
It was built in the North Indian style of architecture and has a dozen shrines of other Gods surrounding the temple.
Panch Kedar is a group of five sacred shrines of Lord Shiva located in the Garhwal Himalayas, Uttarakhand.
The five temples are the Kedarnath Temple , the Tungnath Temple, the Rudranath Temple, the Madhyamaheshwar Temple or Madmaheshwar and the Kalpeshwar Temple.