First Navigation Chart : India- Maldives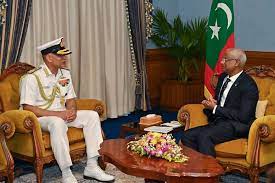 During a three–day visit to the Maldives, Chief of Naval Staff (CNS), Adm R. Hari Kumar unveiled the first navigation chart that has been jointly produced by India and Maldives.
He also handed over hydrography equipment to strengthen the Maldivian National Defence Forces' (MNDF) capabilities.
He also visited the maritime assets of the MNDF maritime and praised the joint efforts of the Indian Navy and the MNDF for maintaining these assets' role worthiness.
A consignment of engineering equipment was also presented by the CNS for further sustenance of the MNDF ships.
India is committed to enhancing the MNDF's capacity-building efforts.
For the purpose of undertaking the joint hydrographic survey under the hydrographic cooperation MoU, the INS Sutlej has been deployed to the Maldives.
A reception was hosted onboard the INS Sutlej by Adm. Kumar on 18th April 2022 in honour of Mariya Ahmed Didi, the Defence Minister of the Maldives and the MNDF leadership.