Mithun : Food Animal Tag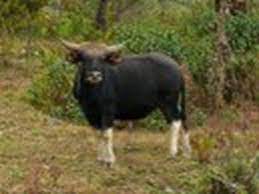 Northeast's Mithun gets a 'food animal' tag from the Food Safety and Standards Authority of India (FSSAI).
The Mithun or gayal (Bos frontalis) is considered a descendant of the Indian Gaur or bison.
It plays an important role in the socio-economic and cultural life of tribes such as the Nyishi, Apatani, Galo and Adi in Arunachal Pradesh.
It is distributed in Northeast India, Bangladesh, northern Myanmar and in Yunnan, China.
It is known as the 'cattle of the mountain'.
The gayal is the state animal of Arunachal Pradesh and Nagaland.
It has a lot of business potential and the potential to provide nutritional, livelihood and financial security.
The Indian Council of Agricultural Research launched the M-ANITRA app to register Mithun farmers as "buyers" and "sellers" with the aim of helping them do business at competitive prices.
Conservation status

IUCN: Vulnerable
CITES: Appendix I.
Food Safety and Standards Authority of India:
It is a statutory body established under the Food Safety and Standards Act, 2006 (FSS Act).
FSS Act of 2006 consolidated various acts & orders that had earlier handled food-related issues in various Ministries and Departments.
Nodal ministry: Ministry of Health & Family Welfare.