Krishi Udan 2.0 Scheme: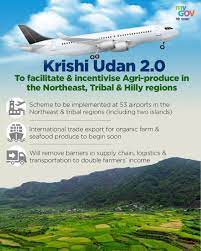 58 airports will be covered under Krishi Udan Scheme 2.0
Krishi Udan Scheme 2.0 was announced on 27 October 2021.
The main objective of the Krishi Udan Scheme 2.0 is to increase share of air carriage in the modal mix for transportation of Agri-produce, which includes horticulture, fishery, livestock and processed products.
The scheme assists farmers in transporting agriculture products so that it improves their value realisation.
The Scheme aims to ensure seamless, cost-effective, time bound, air transportation and associated logistics for all Agri-produce originating especially from North-East, hilly and tribal regions of the country.
Few successful examples are air transportation of 'King Chillies, Burmese Grapes & Assamese Lemon' from Gauwahati, 'Jackfruit' from Tripura and 'Litchi' from Darbhanga.
For facilitating and incentivising movement of agri-produce by air transportation, Airports Authority of India (AAI) provides full waiver of Landing, Parking, Terminal Navigational Landing Charges (TNLC) and Route Navigation Facility Charges (RNFC) for Indian freighters and P2C (Passenger-to-Cargo) Aircraft.
The Ministry of Civil Aviation has also asked States to reduce sales tax on aviation turbine fuel to one perc ent for airlines under the Krishi UDAN 2.0 scheme.