National Anti-Doping Bill: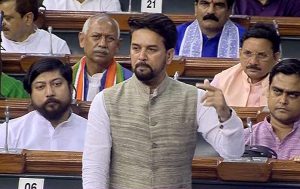 The parliament passed the National Anti-Doping Bill unanimously on Wednesday by a voice vote.
The Bill aims to provide a statutory framework for the functioning of the National Anti-Doping Agency (NADA) and the National Dope Testing Laboratory in sports.
The Minister of Youth Affairs and Sports said India will now join the league of nations like the US, China, France or Australia, Japan, S Korea to have a law and dope test laboratory.
Key provisions:
Prohibits athletes from engaging in doping: The legislation prohibits athletes, athlete support personnel, and other persons from engaging in doping in sports.
Powers to NADA: The bill will give NADA powers of, "investigation, levying sanctions for anti-doping rule violations, the disciplinary procedures to be adopted and the powers of inspection, sample collection and sharing and free flow of information".
Disqualification for violating rules: In case of violation of doping rules, the athlete will be disqualified.
Besides forfeiture of medals, points, and prizes, ineligibility to participate in a competition or event for a prescribed period, and financial sanctions are the actions the violator will have to face.
Planning, monitoring and implementing anti-doping rules: The bill provides for planning, implementing, and monitoring anti-doping activities as well as investigating anti-doping rule violations.
In consonance with UNESCO Convention on doping: It also seeks to give effect to the United Nations Educational, Scientific and Cultural Organization International Convention against doping in sports and compliance with such other obligations and commitments.
National Anti-Doping Agency (NADA):
It was set up as a registered society under the Societies Registration Act of 1860 on 24th November, 2005 with a mandate for Dope free sports in India.
The primary objectives are to implement anti-doping rules as per WADA (World Anti-Doping Agency) code, regulate dope control programmes, to promote education and research and create awareness about doping and its ill effects.
The NADA has the necessary authority and responsibility for: Planning, coordinating, implementing, monitoring and advocating improvements in Doping Control. Cooperating with other relevant national organizations, agencies and other Anti-Doping Organizations etc.