Draft Anti-Trafficking Bill: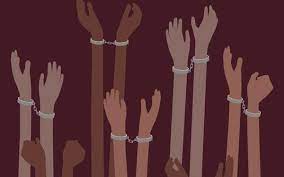 Activists from different part of the country are planning to travel to the national capital and press for the passage of the Trafficking in Persons (Prevention, Care and Rehabilitation) Bill, 2021.
Highlights of the Bill:
The bill proposes stringent punishments for offenders, including hefty fines and seizing of their properties.
The Bill also extends beyond the protection of women and children as victims to now include transgenders as well as any person who may be a victim of trafficking.
The draft also does away with the provision that a victim necessarily needs to be transported from one place to another to be defined as a victim.
Exploitation has been defined to include, at a minimum, the exploitation of the prostitution of others or other forms of sexual exploitation including pornography, any act of physical exploitation, forced labour or services, slavery or practices similar to slavery, servitude or forced removal of organs etc.
The law will extend to:
All citizens inside as well as outside India.
Persons on any ship or aircraft registered in India wherever it may be or carrying Indian citizens wherever they may be.
A foreign national or a stateless person who has his or her residence in India at the time of commission of offence under this Act.
Every offence of trafficking in persons with cross-border implications.
Defence personnel and government servants, doctors and paramedical staff or anyone in a position of authority.
Trafficking in Human Beings or Persons is prohibited under the Constitution of India under Article 23 (1).
The Immoral Traffic (Prevention) Act, 1956 (ITPA) is the premier legislation for prevention of trafficking for commercial sexual exploitation.
Criminal Law (amendment) Act 2013 has come into force wherein Section 370 of the Indian Penal Code has been substituted with Section 370 and 370A IPC which provide for comprehensive measures to counter the menace of human trafficking.