Nutri Garden Project : Lakshadweep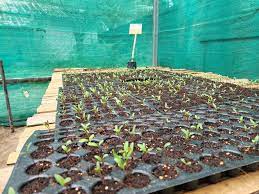 The Nutri Garden project of Lakshadweep has turned out to be a big success.
Nutri Garden project is a method of planting and harvesting nutrient-rich crops in residential houses or in their vicinity to meet the requirements of the family all year round.
It is a cost-effective model to grow nutrient-rich crops for personal or community consumption to promote good health and well-being.
It is under Ministry of Women and Child Development
In urban areas Nutri kitchen gardening can be promoted in the form of rooftop gardening, terrace gardening, vertical gardening and container gardening.
In rural areas Nutri kitchen gardens can be promoted in the backyard of the houses.
Nutri Garden increases the availability of food and nutrient sources.
It can act as a source of supplementary income.
The crops harvested are Fresh and Safe (chemical-free).
It helps tackle both under-nutrition and over-nutrition by adopting a sustainable life cycle approach.