One Nation One Fertilizer Scheme: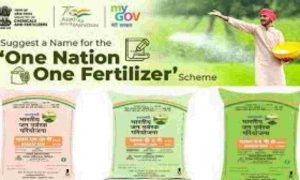 PM Modi launched Pradhan Mantri Bharatiya Jan Urvarak Pariyojana, also known as 'One Nation One Fertiliser' during the two-day event PM Kisan Samman Sammelan 2022.
Under it, fertilizer companies must market all subsidised fertilisers under a single brand 'Bharat'.
With the launch of this scheme, India will have a common bag design across the country like Bharat urea, Bharat DAP, Bharat MOP, Bharat NPK, and so on.
The rationale is that since fertilizers of a particular category must meet the nutrient-content specifications of the Fertilizer Control Order (FCO), there is no product differentiation among different brands for each type of fertilizer.
Also, brand preferences by farmers have resulted in fertilizer-supply delays to farmers and an extra burden on the exchequer due to increased freight subsidies needing to be paid for the long-distance crisscross movement of fertilizers.