India's First Aluminum Freight Rake: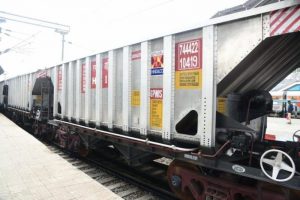 Union Minister for Railways inaugurated India's First Aluminum Freight Rake named – 61 BOBRNALHSM1 at Bhubaneswar Railway Station.
This is a dedicated effort for the Make in India program as it has been fully designed and developed indigenously in collaboration with RDSO, HINDALCO and Besco Wagon.
Reduce Carbon Footprint: It will reduce carbon footprint as lower consumption of fuel in empty directions and more transport of freight in a loaded condition. As a single rake can save over 14,500 tonnes of carbon dioxide over its lifetime.
As per an estimate, around 15 million tonnes of carbon emissions can be saved in a year even if just 5% of the 2 lakh railway wagons that the Central government plans to introduce are aluminum-made.
Reduce Imports: The iron industry consumes a lot of Nickel and Cadmium which comes from imports.
So, a proliferation of Aluminum wagons will result in less import.
Consumes Less Energy: The new aluminum rakes are reportedly 180 tonnes lighter than the current steel rakes.
The carrying capacity of the new design is said to be 5%-10% more than their steel counterparts.
More importantly, they consume less energy with relatively negligible wear and tear to rolling stock and rails.
Net Zero Carbon Emission: it would help the Indian Railways to achieve net zero Carbon Emissions by 2030 to become the world's largest Green Railway.