GHAR – GO Home And Re-Unite: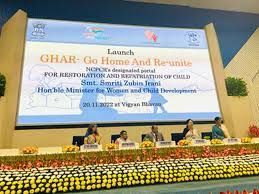 The National Commission for the Protection of Child Rights (NCPCR) has recently launched the 'GHAR – GO Home and Re-Unite'.
It addresses the changed roles of CWCs and District Child Protection (DCPO) for children in need of care and protection.
The portal was developed by the NCPCR.
The portal has digital tracking and monitoring of children who are in the Juvenile Justice system and need to be repatriated to another country/state/district.
Digital transfer of cases of children to the concerned JJB/CWC of the State.
It will help in speedy repatriation of children.
List of Government implemented schemes will be provided, so that at the time of restoration the CWCs can link the child with the schemes to strengthen the family and ensure that child remains with his/her family.