Operation Sagar Aaraksha-II.: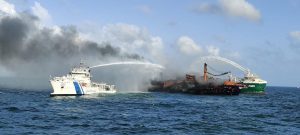 Indian Coast Guard (ICG), in coordination with Sri Lankan authorities, has been tirelessly engaged in fighting a major fire on board the Chemical laden container vessel MV X-Press Pearl anchored off Colombo since 25 May 2021.
The coordinated joint operation between India and Sri Lanka undertook to respond to potential environmental danger has been christened as Sagar Aaraksha-II.
Indian Coast Guard ships, including the specialised pollution response vessel Samudra Prahari and offshore patrol vessel Vajra are on standby in vicinity to respond to the developing situation.
The ICG being an active member of South Asia Co-operative Environment Programme (SACEP) remains committed to its responsibility of safeguarding of the ocean environment in the region.
International Maritime Dangerous Goods (IMDG)
The vessel when caught with fire was carrying 1486 containers containing chemical cargo classified as International Maritime Dangerous Goods (IMDG).
Among other chemicals, the IMDG cargo consisted of highly inflammable Nitric Acid, Methanol, Methyl Acetate, Sodium Hydroxide and Polystyrene beads.