Operation Samudra Setu-II: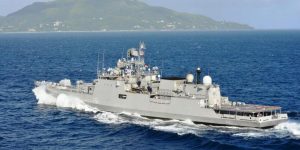 Indian Navy has launched Operation Samudra Setu-II for shipment of Oxygen-filled containers to India.
Operation Samudra Setu was launched in May 2020 as part of the national effort to repatriate Indian citizens from overseas during the Covid-19 pandemic.
Operation Samudra Setu-II:
Seven Indian Naval ships viz. Kolkata, Kochi, Talwar, Tabar, Trikand, Jalashwa and Airavat have been deployed for shipment of liquid medical oxygen-filled cryogenic containers and associated medical equipment from various countries.
Two ships, the INS Kolkata and INS Talwar, have entered the Port of Manama, Bahrain, to carry back 40 tonnes of liquid oxygen to Mumbai.
The INS Jalashwa is en route to Bangkok while the INS Airavat is on its way to Singapore on similar missions
Operation Samudra Setu:
It was launched along with Vande Bharat Mission (VBM).
VBM is the biggest civilian evacuation exercise to bring back Indian citizens stranded abroad amidst the coronavirus-induced travel restrictions.
It has surpassed the large-scale airlift of 1,77,000 people in 1990 at the onset of the Gulf War.
Indian Naval Ships Jalashwa and Airavat, Shardul, and Magar participated in this operation.
Around 4000 Indian citizens stranded in neighboring countries, amidst the Covid-19 outbreak, were successfully repatriated back to India.
Indian Navy has previously undertaken similar evacuation operations as part of Operation Sukoon in 2006 (Beirut) and Operation Rahat in 2015 (Yemen).