Pariksha Pe Charcha 2021: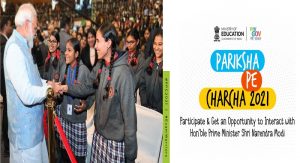 The Prime Minister, Shri Narendra Modi will interact online with students, teachers, and parents all over the world during 'Pariksha Pe Charcha 2021'.
Pariksha pe Charcha is a programme in which the Prime Minister interacts with the cross-section of Students and Teachers from India and abroad to beat exam stress.
It is a unique interaction where students, teachers, parents, and the Prime Minister will come together to discuss issues related to exams esp. stress-free examination.
The first three editions were held at Talkatora Stadium, New Delhi in 2018, 2019 and 2020.