Performance Grading Index For Districts: 2020-21 & 2021-22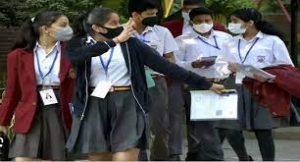 The Department of School Education and Literacy (DoSE&L), Ministry of Education released the Performance Grading Index for Districts (PGI-D) combined report for 2020-21 & 2021-22.
The report has 10 grades under which districts are categorized.
Highlights of the Report:
None of the districts were able to achieve the top two grades (Daksh and Utkarsh).
The number of districts categorized as Ati-Uttam decreased significantly from 121 in 2020-21 to 51 in 2021-22, indicating the impact of the pandemic on educational performance.
Several districts across different states were categorized as Ati-Uttam in both 2020-21 and 2021-22, including Krishna and Guntur in Andhra Pradesh, Chandigarh, Dadra Nagar Haveli, districts in Delhi, Karnataka, Kerala, Odisha etc.
In 2021-22, the number of districts categorized as sixth-highest grade increased from 86 in 2020-21 to 117.
It suggests that more districts faced challenges in maintaining their performance due to the disruptions caused by the pandemic.
PGI-D:
The structure comprises total weight age of 600 points across 83 indicators, which are grouped under 6 categories viz., Outcomes, Effective Classroom Transaction, Infrastructure Facilities & Student's Entitlements, School Safety & Child Protection, Digital Learning and Governance Process.
PGI-D assesses the performance of the school education system at the district level by creating an index for comprehensive analysis.
The PGI-D assessed district-level performance in school education based on the data collected from various sources, including Unified District Information System for Education Plus (UDISE +), National Achievement Survey (NAS), 2017 and data provided by respective districts.
Since 2017-18, MoE has released five annual reports that provide insights on status of school education in States and UTs.