Cheetah Reintroduction Project : Use Of Radio Collars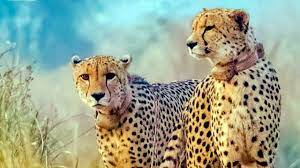 The use of radio collars in the cheetah reintroduction project in Kuno Wildlife Sanctuary, Madhya Pradesh, India, has resulted in unexpected setbacks, with cheetahs experiencing neck wounds and septicaemia, an infection of the blood by bacteria.
Two cheetahs in Kuno died due to suspected septicaemia caused by festering neck wounds from radio collars.
Additional cheetahs, including Oban, Elton, and Freddie, have exhibited similar injuries.
These setbacks have raised concerns about the use of radio collars in the cheetah reintroduction project.
This situation has raised concerns among experts familiar with collaring practices in India and Africa.
Radio collars are used to track and monitor animals in the wild.
They consist of a collar with a small radio transmitter.
Collars provide data on animal behavior, migration, and population dynamics.
They can be combined with GPS or accelerometers for additional information.
Collars are designed to be lightweight and comfortable for animals.
Potential risks and challenges, such as injuries or infections, must be managed.
The Cheetah Reintroduction Project:
In India formally commenced on September 17, 2022, with the objective of restoring the population of cheetahs, which were declared extinct in the country in 1952.
The project involves the translocation of cheetahs from South Africa and Namibia to Kuno National Park in Madhya Pradesh.
20 radio-collared cheetahs were translocated from South Africa (12 cheetahs) and Namibia (8 cheetahs) to Kuno National Park.
In March 2023, India announced the birth of 4 cubs to one of the eight cheetahs that were relocated from Namibia.
The cheetahs underwent a quarantine period and were then shifted to larger acclimatization enclosures.
Currently, there are 11 cheetahs in free-ranging condition and 5 animals, including a cub, in quarantine enclosures.
Dedicated monitoring teams ensure round-the-clock monitoring of the free-ranging cheetahs.
8 cheetahs have died in Kuno National Park due to natural causes.
Preliminary analysis by the National Tiger Conservation Authority (NTCA) indicates that the deaths were natural and not related to other factors like radio collars.