Project-75I : Agreement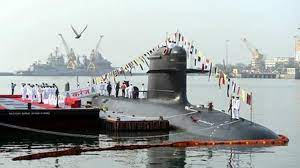 Spanish submarine manufacturer Navantia and India's Larsen and Toubro (L&T) recently concluded a Teaming Agreement, to jointly bid for theProject-75I.
Under this, the Indian Navy will procure six advanced conventional submarines processed through the Strategic Partnership (SP) model.
These will be diesel-electric submarines, having advanced Air-independent propulsion (AIP) systems.
Project 75I requires an Indian bidder to tie up with a foreign collaborator and build six conventional submarines equipped with AIP systems.
The first submarine must have a minimum of 45% indigenisation, with the indigenous content going up to 60% in the sixth.
Air-independent propulsion (AIP) System:
With the emergence of submarines, there was a problem finding satisfactory forms of propulsion underwater.
AIP is mostly implemented as an auxiliary source, with the traditional diesel engine handling surface propulsion.
Most of these systems generate electricity, which in turn drives an electric motor for propulsion or recharges the boat's batteries.
A typical conventional power plant provides 3 megawatts maximum, and an AIP source around 10 percent of that. A nuclear submarine's propulsion plant is much greater than 20 megawatts.