C295 Transport Aircraft: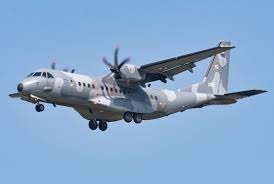 Senior Airbus officials recently said that a fully operational factory will be in place in Vadodara in Gujarat by November 2024, from where the first Indian-made C295 military transport aircraft will start rolling out 2026 onward.
C295 Transport Aircraft is a new-generation tactical airlifter in the light and medium segment that will replace the ageing Avro aircraft of the Indian Air Force.
It was designed and built by Airbus, a European multinational aerospace corporation.
It is robust and reliable but also highly versatile in terms of the number of different missions it can perform.
The aircraft, with a flight endurance of up to 11 hours, can carry out multi-role operations under all weather conditions.
It has a rear ramp door for quick reaction and para-dropping of troops and cargo.
Short take-off/land from semi-prepared surfaces is another of its features.