Remote Voting For Migrants: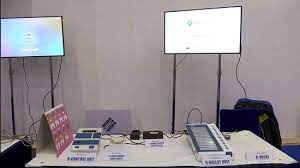 The Election Commission of India (ECI) has proposed a new Remote Electronic Voting Machine (RVM), which will allow domestic migrants to vote in national and regional elections.
The EC proposed using this in a State Assembly election as a pilot so internal migrants within a state can cast their ballots.
Hearing a petition on the alleged denial of voting opportunities to migrants, the Supreme Court (SC) had in 2015 directed the EC to explore options for remote voting.
There are nearly 10 million migrant workers, which is for the unorganised sector, registered with the government's e-SHRAM portal. If the remote voting project is implemented, it will have far reaching ramifications.
RVM is a modified version of the existing Electronic Voting Machine (EVM).
The special remote polling booths would be set up in different states when elections are on in the home state of migrants.
The RVM can handle multiple constituencies from a single remote polling booth.
For this, instead of a fixed ballot paper sheet, the machine has been modified to have an electronic dynamic ballot display which will present different candidate lists corresponding to the constituency number of the voter read by a constituency card reader.
The system would have a device similar to the so voters can verify their votes.