State Of World Population 2022 Report: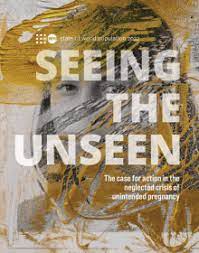 The United Nations Population Fund's (UNFPA) flagship State of World Population Report 2022 titled "Seeing the Unseen: The case for action in the neglected crisis of unintended pregnancy" was launched.
Key Findings of the Report:
Between 2015 and 2019, there were roughly 121 million unintended pregnancies globally each year.
Globally, an estimated 257 million women who want to avoid pregnancy are not using safe, modern methods of contraception.
Nearly a quarter of all women are not able to say no to sex.
Contraceptive use is 53% lower among women who have experienced intimate partner violence.
Rape-related pregnancies are equally or more likely to occur than pregnancies from consensual sex.
Over 60% of unintended pregnancies, and almost 30% of all pregnancies, end in abortion.
45% of all abortions performed globally are unsafe.
In developing countries, unsafe abortions cost an estimated USD 553 million per year in treatment costs alone.