Remote Electronic Voting Machine: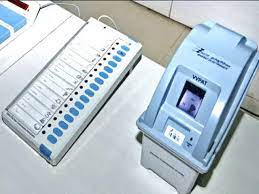 The Election Commission of India (ECI) recently said that it was ready to pilot remote voting for domestic migrants through newly devised remote electronic voting machines (RVMs).
Remote Electronic Voting Machine:
The new RVM prototype will enable a voter, who is listed in constituencies, to exercise voting rights from a single machine.
The multi-constituency remote EVM, developed by a public sector undertaking, can handle up to 72 constituencies from a single remote polling booth.
Migrant voters would not need to travel to their home districts to exercise their franchise if the remote electronic voting machine is implemented properly.
The remote e-voting machine will be a standalone device which doesn't need connectivity to operate.
The Representation of the People Act, The Conduct of Election Rules and The Registration of Electors Rules will need to be amended to introduce remote voting.
The RVMs will have the same security system and voting experience as the EVM, with the modification of an electronic ballot display with candidates and symbols instead of a fixed ballot paper sheet.
When the voter scans his/her constituency card in the presence of the Presiding Officer at the station, their respective constituency and candidate list will appear on the RVM display.
As for counting the votes, the electronic system will also count and store the votes for each candidate in a constituency.