Advance Medical Directive: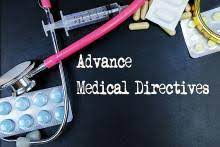 A Constitution bench of the Supreme Court (SC) questioned the utility of executing an advanced medical directive in India when a person is anyway free to refuse invasive treatment and accept death.
Advance Medical Directive/Living will:
It is a document prescribing a person's wishes regarding the medical treatment the person would want if he/she was unable to share his/her wishes or not in a position to make an informed decision by reason of being unconscious or in a coma.
Supreme Court in Common Cause vs. Union of India, 2018 recognised that a terminally-ill patient or a person in persistent vegetative state can execute an "advance medical directive" or a "living will " to refuse medical treatment and gave sanction to passive euthanasia and living will/advance directives.
The court also laid down principles relating to the procedure for execution of living will.
An adult who is of a sound and healthy mind and in a position to communicate, relate and comprehend the purpose and consequences of executing the document can draw up an Advance Medical Directive/Living Will
It must be voluntary.
It should be in writing and should clearly state as to when medical treatment may be withdrawn or if specific medical treatment that will have the effect of delaying the process of death should be given.
Instructions must be absolutely clear and unambiguous.
It should mention whether the patient may revoke the instructions/authority at any time.
It should specify the name of a guardian or close relative who, in the event of the patient becoming incapable of taking decision at the relevant time, will be authorized to give consent to refuse or withdraw medical treatment
If there is more than one valid Advance Directive, the most recently signed Advance Directive will be considered as the last expression of the patient's wishes and will be implemented.