Russia's Batagaika Crater : World's Largest 1km-Long Permafrost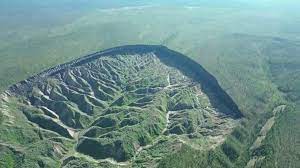 Russia's Batagaika crater, the world's largest 1km-long permafrost crater, expands due to global warming and thawing permafrost.
Deforestation triggered underground permafrost melting, causing the crater's growth in the Sakha Republic, Russia.
It also holds dangerous organic carbon, exacerbating global warming.
Russia is warming is occurring at an alarming rate, approximately 2.5 times faster than the global average.
As a result, large areas of the country's long-frozen tundra, covering about 65% of its landmass, are experiencing significant thawing, releasing potent greenhouse gases like methane.
Permafrost is any ground that remains completely frozen—32°F (0°C) or colder—for at least two years straight.
These permanently frozen grounds are most common in regions with high mountains and in Earth's higher latitudes: near the North and South Poles.