Russia's Withdrawal From UNWTO: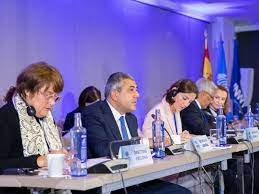 The UN World Tourism Organization (UNWTO) has announced that Russia has decided to withdraw from the UNWTO. The announcement was made by UN World Tourism Organization Secretary-General Zurab Pololikashvili.
According to the UNWTO, Russia decided to withdraw from this organization ahead of a vote by the body to suspend Russia for its war against Ukraine.
This development comes amid the ongoing Russia-Ukraine war.
The UNWTO had earlier called the Russian aggression against Ukraine as being inconsistent with the United Nations Charter and being against the UNWTO's fundamental aim.
The UNWTO had earlier announced in the month of March that it wants to suspend Russia due to the conflict.
This decision must be approved by 2/3rd of its members (159 members) at the convention that began on 27th April 2022 in Madrid.
Even after Russia's decision to withdraw, the UNWTO will go ahead with the vote.
This is the first time the UNWTO has met to discuss the suspension of one of its member nations.
The UNWTO is an organization of the United Nations that has been entrusted with the promotion of sustainable, responsible, and universally accessible tourism.