International Solar Alliance: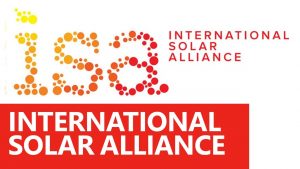 5th assembly of ISA has been inaugurated in India. India holds the office of the President of the ISA Assembly, with the Government of France as Co-President.
The Assembly is the apex decision-making body of ISA, where each Member Country is represented.
It meets annually at the ministerial level at the ISA's seat.
This year, the ISA Assembly will deliberate on three critical issues energy access, energy security, and energy transition.
About ISA:
It is an intergovernmental organization, launched in 2015, with 110 Member and Signatory countries. I
SA is the first such intergovernmental organization to be headquartered in India.
Its mission is to unlock US$ 1 trillion of investments in solar by 2030 and reduce the cost of the technology and its financing.
Important projects under ISA: One Sun One World One Grid (OSOWOG); ISA Solar Technology and Application Resource Centre (ISTAR C); Indian Technical and Economic Cooperation (ITEC) Scheme (for training).