Samarth Scheme: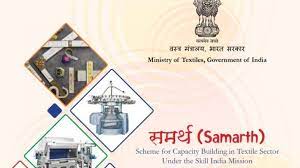 In order to meet the skill gap in the industry, Ministry of Textiles is implementing Samarth Scheme for Capacity Building in Textile Sector.
First batch in each 63 training centers have been completed successfully benefitting 1,565 artisans. The second batch will also complete during the month of August 2021 benefiting 1,421 artisans.
Additionally, 65 new handicrafts training centers are being established to scale up the training program so that the maximum number of artisans can be benefitted.
The salient features of the scheme are:

Samarth Scheme is being implemented in association with State Government agencies, sectoral organisations of Ministry of Textiles, Manufacturing Industry, Industry Associations and MSME Associations.
Formulated as per broad skilling framework adopted by Ministry of Skill Development & Entrepreneurship (MSDE).
Comprise entry level skilling (Fresh workers) and Upskilling (existing worker).
Mandatory placement of trainees- 70% for entry level & 90% for upskilling under organized sector.
Aadhaar Enabled Biometric Attendance System (AEBAS) and Web based centralized Management Information System (MIS) for monitoring.