Granting Scheduled Caste (SC) Status To Dalit Christians: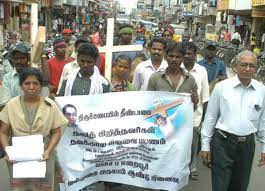 The Union Government established a commission, led by former Chief Justice K.G. Balakrishnan, to explore the possibility of granting Scheduled Caste (SC) status to Dalit Christians.
The Tamil Nadu Assembly passed a resolution to amend the 1950 Presidential (SC) order to include them.
The Justice Ranganath Misra Commission (2007) and studies by Deshpande and Bapna (2008) favoured extending reservation benefits to Dalit Christians.
Hindu Dalits converted to Christianity to escape caste-based discrimination but haven't achieved the expected equality due to lingering social hierarchies.
The article highlights the need to recognize the unique struggles of Dalit Christians through the "Theory of Intersectionality," which considers multiple forms of oppression like race, gender, and religion intersecting.
The term "Dalit Christians" reflects a distinct identity, challenging the misconception that conversion erases caste discrimination.
The legal framework's focus on single-axis categorization has led to exclusion, and amending the SC list through the 1950 order is proposed as a solution.