Samudrayaan Mission: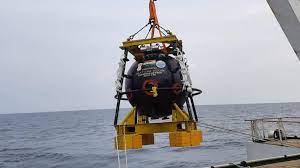 Union Minister of State (Independent Charge) Earth Sciences recently said that Samudrayaan Mission is aimed at sending three personnel to 6000-metre depth in a vehicle called 'MATSYA 6000'.
Samudrayaan Mission is aimed to develop a self-propelled manned submersible to carry three human beings to a water depth of 6,000 meters in the ocean with a suite of scientific sensors and tools for deep ocean exploration.
The experts will be sent in a manned submersible vehicle called 'MATSYA 6000'.
This vehicle is being designed and developed by the National Institute of Ocean Technology (NIOT), Chennai under the Ministry of Earth Sciences.
It has an endurance of 12 hours under normal operation and 96 hours in case of emergency for human safety.
Manned submersible provides a feel of direct physical presence for researchers and has better intervention capability.
With the launch of 'Samudrayaan' in October 2021, India joined the elite club of nations such as the US, Russia, Japan, France, and China to have niche technology and vehicles to carry out subsea activities.