Mission DefSpace: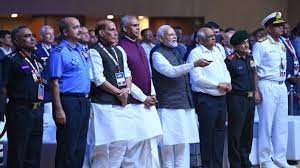 Prime Minister (PM) Narendra Modi recently launched Mission DefSpace in Gandhinagar.
The space programme aims to develop innovative solutions for the Defence Forces through industry & startups.
Importantly, the initiative will prepare India for future possibilities in space domain and will also increase the country's preparation further.
Under Mission DefSpace, 75 challenges are being opened to get innovative solutions, based on the defence requirements in the space domain.
The programme will focus on various challenges in this area that have been reviewed and identified by the three defence services.
There are more than 60 developing countries with whom India is sharing its space science. Many African countries and many other small countries are benefiting from this.
The 'South Asia satellite' is an effective example of this. By next year, ten ASEAN countries will also get real-time access to India's satellite data.