Vainu Bappu Observatory: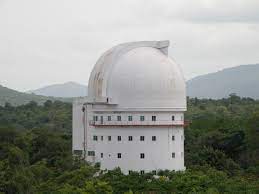 Discoveries of the 40-inch telescope at the Vainu Bappu Observatory were highlighted at its 50-year celebration.
Vainu Bappu Observatory is considered one of the most renowned observatories in India it is Located on Javadi Hills at Kavalur, Tamilnadu
The 40-inch telescope was installed in 1972 and started producing important astronomical discoveries soon after. More than a generation of astronomers were trained at this telescope as well.
The telescope in the observatory is under the Indian Institute of Astrophysics (IIA), an institute of the Department of Science and Technology (DST)
Vainu Bappu:
He was an Indian astronomer who helped to establish several astronomical institutions in India including the Vainu Bappu Observatory which is named after him.
He has played a significant role in astronomy with major discoveries like the presence of rings around the planet Uranus, a new satellite of Uranus, and the presence of an atmosphere around Ganymede which is a satellite of Jupiter.