SDG Report 2022: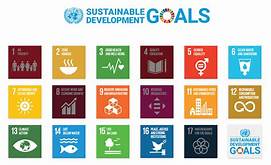 A recent UN SDG index says, all 17 SDGs, are in jeopardy due to the climate crisis, the COVID-19 pandemic and an increase in the number of conflicts across the world.
The 2022 SDG Index is topped by three Nordic countries – Finland, Denmark and Sweden – and all top 10 countries are European countries.
India ranked at 121.
Key Highlights:
No improvement in performance: Performance on SDG 1 (No Poverty) and SDG 8 (Decent Work and Economic Growth) remain below pre-pandemic levels in many low-income countries (LICs) and lower-middle-income countries (LMICs).
Slow progress on climate and biodiversity: Progress on climate and biodiversity goals is also too slow, especially in rich countries.
Greenhouse gas emissions are set to rise 14 per cent over a decade.
A 2025 peak followed by a 43 per cent decline by 2030 and Net 2050.
The pandemic itself has emerged as one of the biggest threats to several SDGs, pointing at 15 million "excess deaths" directly or indirectly due to the novel coronavirus by 2021.
Economic shocks due to the worldwide health emergency pushed 93 million into poverty in 2020 alone, undoing "more than four years" work at alleviating poverty.
It also affected the education and healthcare services for millions.
Immunization, for example, has dropped for the first time in a decade even as deaths from malaria and TB have risen.
The pandemic and the Russia-Ukraine war have already led to a lowering of global economic growth projections by 0.9 percentage points, the statement highlighted, flagging the conflict for harming in more ways than one:

Raising food and fuel prices
Hampering global supplies and trade
Roiling financial markets