Democracy Report 2022: Important Points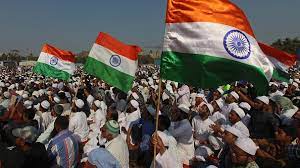 The V-Dem Institute at Sweden's University of Gothenburg has come out with their annual democracy report. The study is titled 'Democracy Report 2022: Autocratisation Changing Nature?'.
The report classifies countries into four regime types based on their score in the Liberal Democratic Index (LDI): Liberal Democracy, Electoral Democracy, Electoral Autocracy, and Closed Autocracy.
It classifies India as an electoral autocracy ranking it 93rd on the LDI, out of 179 countries.
The level of democracy enjoyed by the average global citizen in 2021 is down to 1989 levels, with the democratic gains of the post-Cold War period eroding rapidly in the last few years.
More than twice as many countries (32) are undergoing autocratisation as are witnessing democratisation (15).
Noting that India is one of the top ten 'autocratisers' in the world, the V-Dem (Varieties of Democracy) report classifies India as an autocracy ('electoral autocracy') rather than a democracy, ranking it 93rd on the liberal democracy index, out of 179 countries.
One of the biggest drivers of autocratisation is "toxic polarisation", a dominant trend in 40 countries, as opposed to 5 countries that showed rising polarisation in 2011.