Sea buckthorn : Awarded GI Tag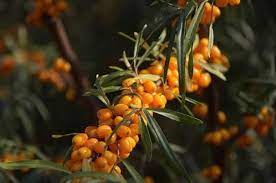 Sea buckthorn fruit from Ladakh has been recently awarded a GI tag.
Sea buckthorn (Hippophae rhamnoides) is a plant found throughout Europe and Asia.
In India, it is found above the tree line in the Himalayan region, generally in dry areas such as the cold deserts of Ladakh and Spiti.
It is naturally distributed over 11,500 hectares in the Ladakh region.
It produces small orange or yellow-coloured berries that are sour in taste but rich in vitamins, especially vitamin C.
The shrub can withstand extreme temperatures ranging from minus 43 degrees Celsius to 40 degrees Celsius and is considered drought-resistant.
These two characteristics make the shrub an ideal plant species to establish in cold deserts.
Sea Buckthorn berries have the unique characteristic of remaining intact on the shrub throughout the winter months despite the subzero temperature.
It has been used traditionally for a variety of purposes.
Every part of the plant—fruit, leaf, twig, root, and thorns—has been traditionally used as medicine, nutritional supplement, fuel, and fence.
Many bird species feed on the berries when other sources of food are limited in the region.
The leaves serve as protein-rich fodder for cold desert animals like sheep, goats, donkeys, cattle, and double-humped camels.
Therefore, it is popularly known as the 'Wonder Plant', 'Ladakh Gold', 'Golden Bush', or 'Gold Mine' of cold deserts.