Section 295A: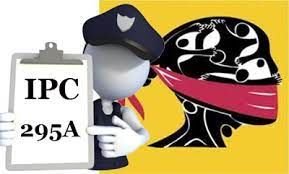 The debate surrounding the comments by BJP spokespersons Nupur Sharma and Naveen Jindal have put the spotlight on the law that deals with criticism of or insult to religion.
India does not have a formal legal framework for dealing with hate speech. However, a cluster of provisions, loosely termed hate speech laws, are invoked. These are primarily laws to deal with offences against religions.
Provisions in the Indian Penal Code (IPC), primarily Section 295A, define the contours of free speech and its limitations with respect to offences relating to religion.
Section 295A defines and prescribes a punishment for deliberate and malicious acts, intended to outrage religious feelings of any class by insulting its religion or religious beliefs.
Section 295A is one of the key provisions in the IPC chapter to penalise religious offences.
The state often invokes Section 295A along with Section 153A of the Indian Penal Code, which penalises promoting enmity between different groups on grounds of religion, race, place of birth, residence, language, etc, and doing acts prejudicial to maintenance of harmony.
Section 295A was brought in 1927. The amendment was a fallout of an acquittal under Section 153A of the IPC by the Lahore High Court in 1927 in Rajpaul v Emperor, popularly known as the Rangila Rasool case.
Rangila Rasool was a tract brought out by a Hindu publisher that had made disparaging remarks about the Prophet's private life.