Section 43D(5) Of The Unlawful Atrocities Prevention Act (UAPA):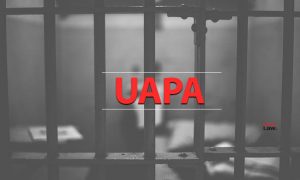 Just two days before his death, Stan Swamy had moved the Bombay High Court challenging Section 43D(5) of the Unlawful Atrocities Prevention Act (UAPA) — a provision Swamy termed "illusory".
The provision makes grant of bail virtually impossible under UAPA since it leaves little room of judicial reasoning.
The UAPA, enacted in 1967, was strengthened by the Congress-led UPA government in 2008 and 2012.
The test for denying bail under the UAPA is that the court must be satisfied that a "prima facie" case exists against the accused.
In 2019, the SC defined prima facie narrowly to mean that the courts must not analyse evidence or circumstances but look at the "totality of the case" presented by the state.
Section 43D(5) reads: "Notwithstanding anything contained in the Code, no person accused of an offence punishable under Chapters IV and VI of this Act shall, if in custody, be released on bail or on his own bond unless the Public Prosecutor has been given an opportunity of being heard on the application for such release.